Requires iOS 7
MessageHeads brings Facebook's Chat Head style chat bubbles to the Messages app.
Features:
* Enable globally with option to disable on lockscreen
* Mute option for conversations
* Two docking options
* Top
* Side
* Two activator actions
* Hide/show conversations
* Quick Compose
* Normal and Dark Mode
* Color customization options
*******
* If you use SmartClose, make sure that you turn off Messages under the "Enabled Apps" section
* Using MessageHeads in conjunction with TypeStatus can sometimes cause MMSs to not be sent.
*******
Configure options from Settings.
Screenshots: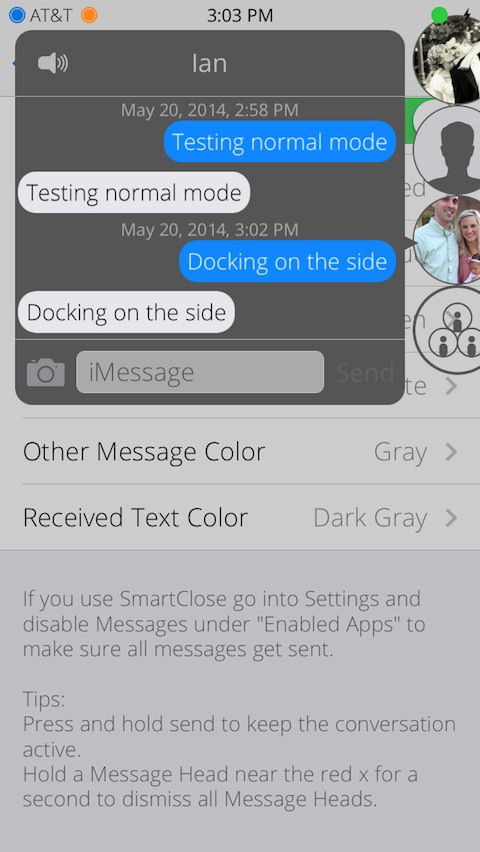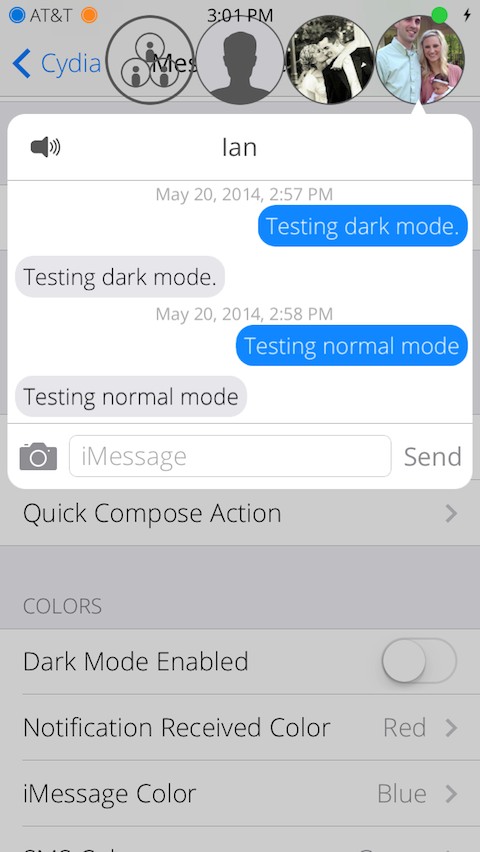 Chat Heads for Messages
Changelog:
v1.0.2-1
Fixed issue with sent message looking duplicated (or multiplied) until a message head is closed and reopened
Fixed issue with Quick Compose Activator action showing in Messages app when it shouldn't
Removed Activator dependency
Added Activator icons and renamed actions to avoid confusion
Fixed message head not showing up on lock screen shortly following a respring
Fixed new messages not showing up on the lockscreen with Convergence installed
Now tapping a messages notification in the Notification Center will launch the selected conversation in MessageHeads
Download:
http://www.mediafire.com/download/63olic2wb5gphca/org.thebigboss.messageheads_v1.0.2-1_iphoneos-arm.deb