Requires iOS 4.0 or higher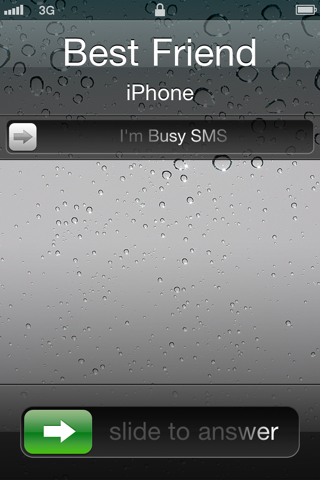 With "I'm Busy SMS" you can decline an incoming call and send a predefined SMS text message to the caller with a single finger slide.
Have you ever been in a meeting or another situation that did not allow you answer an incoming call? But you wanted the caller to let know that you will call back as soon as possible? With "I'm Busy SMS" this is finally possible. Define your message text in the device settings. If there's an incoming call simply slide the button and the call gets declined and your message is sent to the caller with an SMS text message. Please note that the caller may be redirected to Voice Mail by declining the call. An accoustic signal confirms the sending of the message.
Costs for sending SMS text messages may apply, according to your price plan.
No new icons will be added to your home screen. You can configure options from your Settings app.
Changes:
v1.8-1
improved detection of incoming caller number on iOS 5
Download