Compatible with iOS 5 and 6
Compatible with iPhone and iPod touch
Works only with HID devices
Connect USB HID devices to your iPhone!
CameraConnector allows you to use the iPad Camera Connection Kit for the iPad on the iPhone, and iPod touch.
Utilize USB HID peripherals such as hardware keyboards and such on your devices
Configure options from Settings app.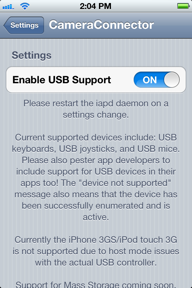 Changes:
- iOS 6 support
- Kill iapd daemon button in CameraConnector preferences
Download